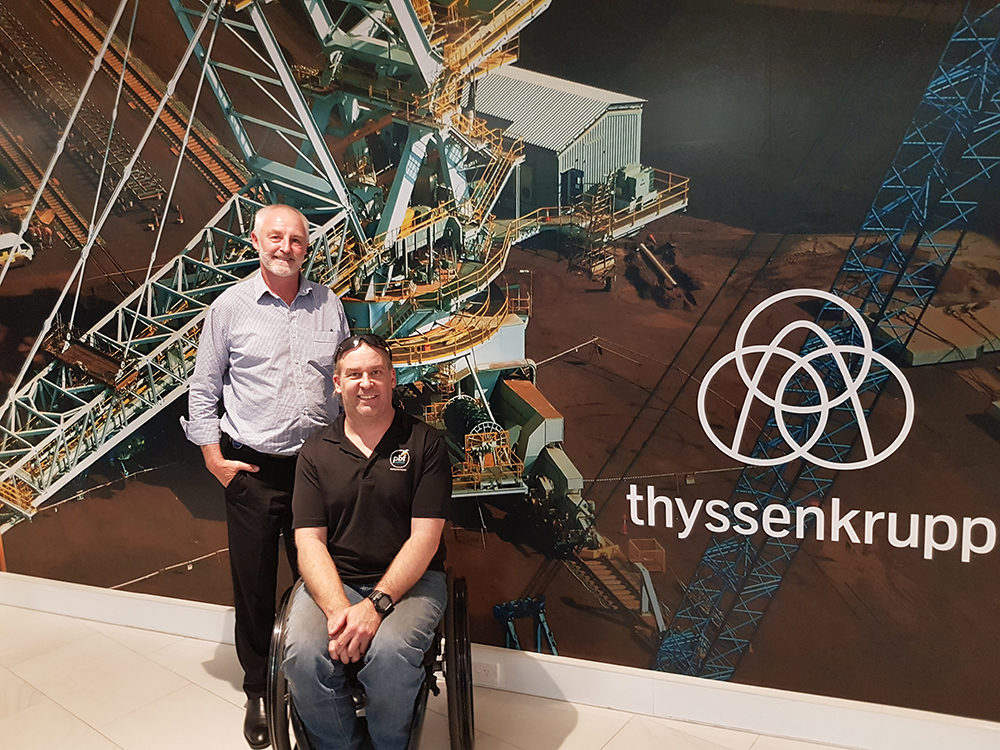 PBF's workplace injury prevention programs are heart felt yet confronting; challenging individuals to consider the lifelong impacts an unsafe work choice can have on one's future health, and those around them. 
Through our speaker's stories, PBF is able to build greater awareness of the risk of serious injury in Australian workplaces as well as encourage personal responsibility for adopting safe work practices.  
Our presentations can be tailored to any business type and are available to large and small groups across Australia. 
We recently worked with Jim Stevenson Head of HSEQ at thyssenkrupp Industrial Solutions (Australia) Pty Ltd, to deliver a series of presentations focusing on their safety message as part of their We Care Day 2019 program. 
Jim was pleased with the powerful message delivered commenting "We've received a considerable amount of positive feedback from management and employees alike.? Each session was well received, and the content of each presentation specifically targeted to the audience at each location". 
Katie Stokes, PBF's WA Business Development Manager, was pleased that we were able to help reinforce thyssenkrupp's safety message, saying "We have the flexibility to adapt our programs and presentations to match specific organisational requirements." 
PBF's West Australian and Queensland teams worked together to deliver the presentations in Port Hedland, Perth, Brisbane & Melbourne. 
Jim was impressed with the quality of the presentations delivered stating "I can't speak highly enough of the presenters, Nigel Barley and Paul Carson, who not only travelled around willingly and retold their personal experiences, but immediately engaged with our people on each site to reinforce our safety and welfare ideals. ?These people and their everyday stories are so highly relatable. The impact on our employee's safety behaviours was immediate." ? 
Book an injury prevention presentation >>
Follow us on Facebook for more