Engaging PBF Australia to help make a difference. 
Safety is important to APA Group (www.apa.com.au), a leading Australian energy infrastructure business. Heading into a shutdown in Queensland they contacted PBF Australia's Business Support Manager Darron Shields to discuss opportunities to help promote their workplace safety message. PBF speaker Paul Carson was identified as the "right fit" for APA and he travelled out to Wallumbilla close to Roma about 400km from Brisbane to deliver a series PBF's Workplace presentations to APA Group employees. After a lengthy period when travel has been restricted Paul felt great to be back out on site sharing his story face-to-face. 
Paul shares his personal story detailing how his life changed in an instant following a workplace accident. Before his accident Paul enjoyed riding motorbikes, fishing, camping, and travelling. He was planning to start a family with his girlfriend.
Paul was working at a water reservoir on the Sunshine Coast in QLD and felt under a lot of pressure at work. When packing up for the day he decided to do the right thing by securing the site, as there had been a theft the night before. Whilst moving the load of form ply, a 480kg pallet of bolts slipped off the top and hit Paul on the back of his shoulders. He now lives as a paraplegic.
Paul's presentation addresses how his incident could have been prevented if he had spoken out more about proper safety standards at his workplace. His message was well received and resonated with the team at APA.
"Paul's presentation was very informative, talking about how quickly a work site condition can change and then what a workplace injury can mean, it had a big impact on our Team"   Lyndon Brock, Regional Manager
"I thought I knew what a Spinal Cord injury was after a friend's son incurred a SCI riding his motorbike, one year later my son incurred the same SCI from riding his motorbike, I can tell you know I had no idea what it is was going to be like. We spent over $100,000 making changes to our house to get our sone back home. Having a PBF Presenter come out site is invaluable by sharing a personal story, it's simple it makes you think twice and hopefully keeps you safe and your mate's safe".
Dale, APA Mechanical Technician Pipeline & Transmission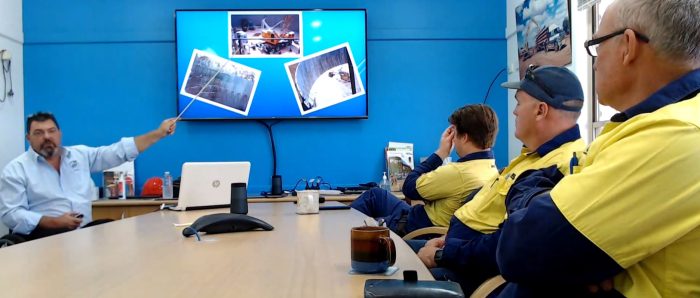 Follow us on Facebook for more