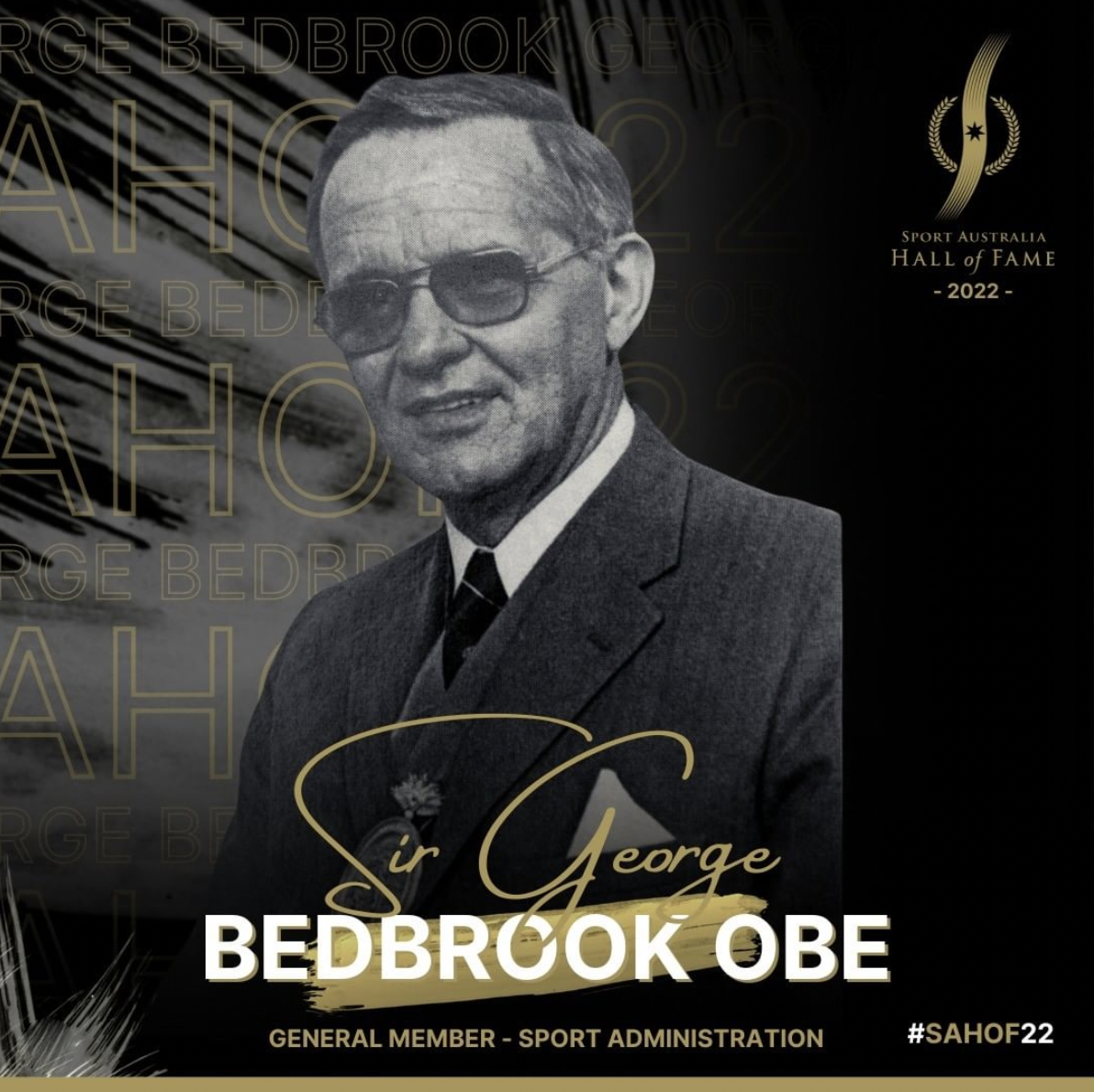 13 October 2022
Pioneer of the Australian Paralympic Movement and founder of the Paraplegic Benefit Fund Australia inducted into Sport Australia Hall of Fame
Perth, Western Australia – Sir George Bedbrook OBE has been inducted into the country's most prestigious sporting club, the Sport Australia Hall of Fame (SAHOF) for his significant and lasting contribution to Australia's Paralympic Movement.
The late pioneering orthopaedic surgeon, rehabilitation specialist and spinal injury advocate was honoured as a General Member and joins other 2022 inductees, including multiple Commonwealth Games medallist Catherine Cox, two-time Brownlow medallist and six-time AFL All-Australian Chris Judd, and four-time consecutive Olympic Games softball medallist Tanya Harding AM.
Throughout his four-decade career, Bedbrook championed the importance of combining rehabilitation with a competitive edge to assist patients both physically and psychologically, helping to establish the Australian Paralympic movement as a result. He once said, "If a life is worth saving, it must be given the opportunity to be worth living."
Sir George Bedbrook's significant impact on generations of Australian Paralympians can not be overstated, with Australian sporting royalty, including Paralympian Louise Sauvage, coming out to laud his vision for more accessibility in Australian elite sport.
Recognising the financial, as well as the physical and psychological impacts of sustaining a spinal cord injury, Bedbrook founded the Paraplegic Benefit Fund (PBF) Australia in 1984, frustrated by the lack of financial support available for patients living with a spinal cord injury. He found that 70 per cent of patients were not eligible for any insurance or compensation payment following their spinal cord injury, with many being institutionalised after discharge from hospital.
The national membership-based, not-for-profit fund's mission is to see fewer Australians become permanently paralysed, and to provide financial support for those living with a permanent disability. PBF has 50,000 members, providing disability cover, injury prevention education and support services in every state and territory.
PBF Australia Director, Simon Bedbrook, said: "Being inducted into SAHOF is a huge honour and recognition of grandad's immense contribution to the Australian Paralympic movement. In Australia, around one person sustains a permanent, traumatic spinal cord injury every day.
"The impact is devastating, and lives are changed in a split second, with paraplegia and quadriplegia being among the most expensive chronic injuries a person can face.
"Most people are unaware of the financial reality of a permanent disability and underestimate the cost of adapting their homes and transport.
"Long-term support and benefits can take months and even years to be approved and paid, the immediate support provided by PBF eases the significant financial burden people who sustain a spinal cord injury face."
The PBF pays out a $250,000 member benefit payment as quickly as possible after injury diagnosis to help cover the significant, immediate costs incurred including living, medical and rehabilitation
expenses and modifications to housing and transportation. Fund members include St Mary's Rugby League Club NSW and Sunshine Coast Triathlon Club.
PBF Australia CEO, Martin Browning, said: "PBF's low-cost membership provides financial protection for families and for employees in the event of a permanent spinal cord injury, while contributing to PBF's programs dedicated to improving the quality of life for those living with permanent traumatic spinal cord injury."
The largest single employer of people with permanent spinal cord injuries in Australia, PBF presenters or "wheelies", who all have sustained a permanent injury, share their stories to raise awareness and promote safer behaviour in workplaces, schools and on behalf of organisations including Inghams, Action Drill & Blast and Queensland TAFE.
PBF's education sessions use personal testimonials and real-life examples to highlight the negative impacts of unsafe behaviours including unsafe driving, alcohol use and other risky behaviours on personal health, future opportunities and loved ones.
PBF Wheelie, Jodie Nikolic, said: "Unfortunately, I was not a PBF member at the time of my accident. The $250,000 member benefit payment would have made a huge difference after my injury. It would have relieved financial pressure and helped with immediate expenses; allowing me to focus on my physical and mental rehabilitation. I would encourage everyone to consider joining PBF."
Sir George Bedbrook and the other 2022 inductees will be honoured in a television special on the Channel Seven Network, 2022 Sport Australia Hall of Fame Heroes and Legends, premiering on Thursday, December 8 across Australia.
The award will be accepted by Sir George's grandson and Director at the Paraplegic Benefit Fund (PBF) Australia, Simon Bedbrook, at a reception in Perth on 21 December.
Follow us on Facebook for more